This is absolutely the perfect time to think about planning a Gatsby theme wedding with the movie out and the look getting very trendy. It was called the "Roaring 20?s" or the "Golden Age Twenties" and in France it was called the "Crazy Years"! It started in the U.S. with the 18th and 19th Amendments to the Constitution in that ban alcoholic beverages and gave women the right to vote, respectively. It was a boom time after World War I, The Great War, and people wanted to party and indulge and live life to the fullest. It was a time of pearls, feathers, music, dancing, glitz and glamour. It was a time of flappers, jazz, and Art Deco and the first widespread use of cars, telephones, motion pictures, and electricity. According to Wedding Illustrated, Gatsby-themed weddings are one of the top trends. But when you go Gatsby you need to go Gatsby! So, grab your imagination and let's take a step back in time and recreate for your one special day the feeling of that era with these ideas and suggestions.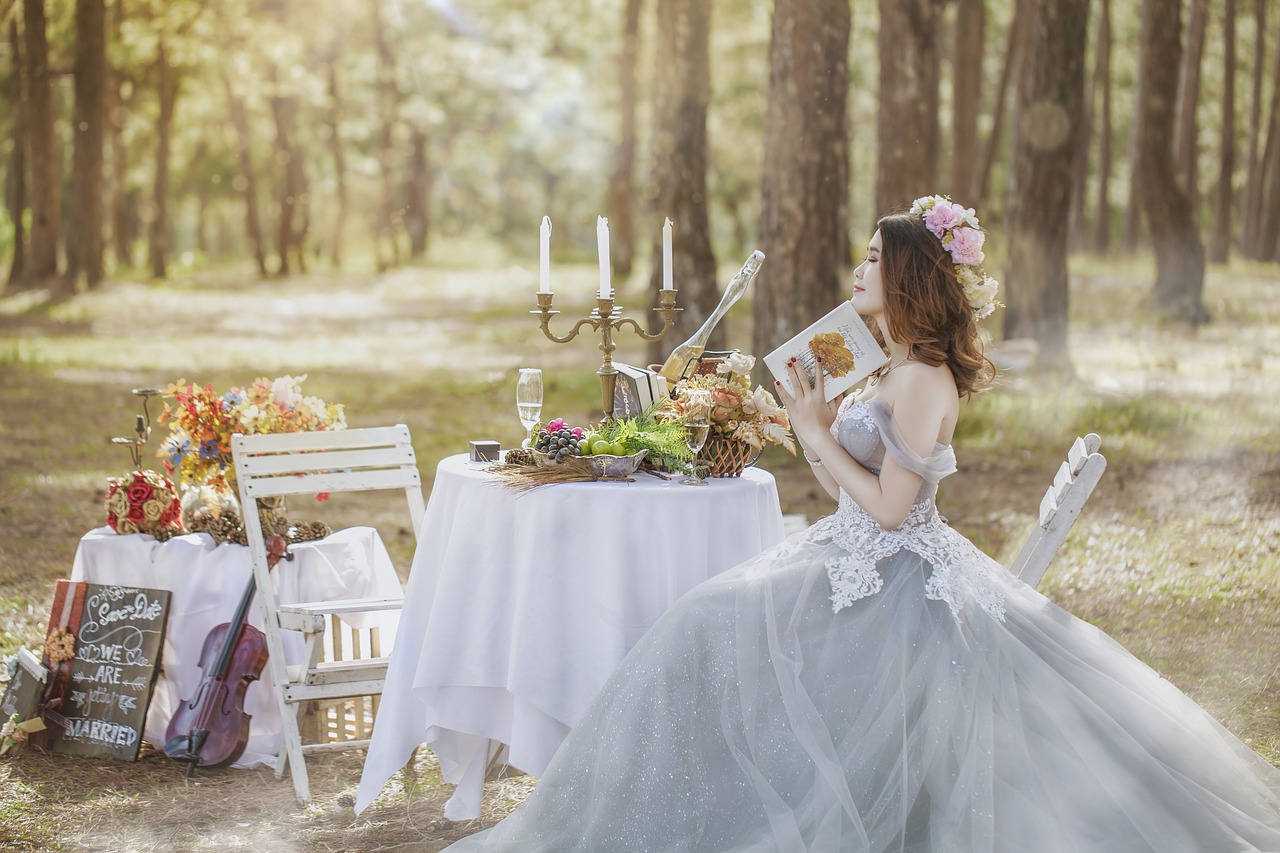 Your invitations will begin to set the mood and give your cherished guests an idea of your theme, so choose invitations that are lavish and let them know that they are in for a grand time; of course, lavish doesn't mean expensive if you know where to look and how to shop! Your invitation should be art deco and reflect the colors as noted above. They can be designed to be elegant or fun or both. If you want to go all out, you might want to ask your guests to dress in the Gatsby era attire; of course, you shouldn't make it mandatory but think of the fun and how memorable a wedding it would be if it was like the scene from the movies. What fun you can have planning your attire for the day and, if you go all out for authentic you can be easy on your budget and start looking at estate sales or vintage shops or even thrift stores and garage sales have some amazing clothes and accessories.
Gatsby Style Wedding Dress
Think flapper fashion for the ladies which means a column-like very straight silhouette. Accent the look with faux or real strands of pearls, rhinestone brooches, some fabulous earrings, feathers and faux fur. For your head your choices are practically unlimited. A birdcage veil, beautiful bejeweled headbands, tiaras, you name it and it goes in that wild and carefree time. You can check out veils worn in that era and have one made just for you to make your style and dress. Complete your outfit with a lovely clutch bag and lower heeled shoes. The men in the party should join right in by opting for the dress of the time. First, the authentic thing is to wear a black tie. or white tie ensemble. But that can get expensive so you probably want to get the specific flavor without the huge expense for you and your guests, don't worry it's really pretty easy. One key that's simple is to wear a vest with the suit; in fact, until about everyone wore a vest at an important part of their three-piece suit.
Just do NOT wear a belt with the vest, if you want a true Gatsby-esque look the wear suspenders/braces but never a belt! The suit can be in many different light-hues and it's an absolute must to wear cufflinks. To really add to the look there's nothing like a pocket watch on a fob in your vest pocket but please don't have the pocket watch in your jacket pocket, it goes in your vest. The next easy trick is the tie and shirt collar style. Until about World War II in the the standard shirt was a white collar on a colored or patterned shirt; this was very similar the popular business shirts in the early so they should be easily found. To go that extra mile try to find a rounded collared shirt but tall and wing collars are fine as are collars with collar pins. Quick Tip: An inexpensive tuxedo shirt with a wing collar and a bow tie are easy ways to get that look. You can use both regular and bow ties but, of course, the best people wore bow ties and do not wear a bowtie under your collar, it goes in front of the collar points. You can see some nice examples and instructions on how to tie a bow tie here. To complete the look you just need to add a hat. Hat styles change and you'll need one that matches the 1920?s but that won't be as hard as you might think; the free-wheeling 20?s had a range of hat styles. Of course, a top hat is the best choice but you can choose from a fedora, a derby, or even a porkpie.